Achille Gustave Louis Joseph Liénart is a French Cardinal of the Roman Catholic Church.
Achille Liènart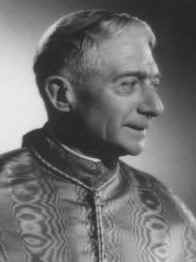 | | |
| --- | --- |
| Born | February 7, 1884 in Lille, France (today part of the Commune of France) |
History
Early Life
Achille Liènart was born in Lille, France, on February 7, 1884; he studied at College Saint-Joseph, the Seminary of Saint-Sulpice in Paris, the Institut Catholique de Paris, Collège de Sorbonne, and the Pontifical Biblical Institute in Rome.
Liènart was ordained to the priesthood on June 29, 1907 and then taught at first at the Seminary of Cambrai until 1910 and then at Lille until 1914. During the Weltkrieg Liénart served as a chaplain to the French Army and after that he dedicated himself to pastoral work in his hometown from 1919 to 1928.
Career in the Chuch
Pope Pius XI appointed Liènart Bishop of Lille on October 6, 1928 and elevated him to cardinal on June 30, 1930.
Liénart is seen as a leading liberal voice and he has often expressed his support for social reforms and trade unionism. He is tolerated by the French Syndicalist government whereas the more conservative cardinals in Rome oppose him.
See also
Ad blocker interference detected!
Wikia is a free-to-use site that makes money from advertising. We have a modified experience for viewers using ad blockers

Wikia is not accessible if you've made further modifications. Remove the custom ad blocker rule(s) and the page will load as expected.