Adolf II zu Schaumburg-Lippe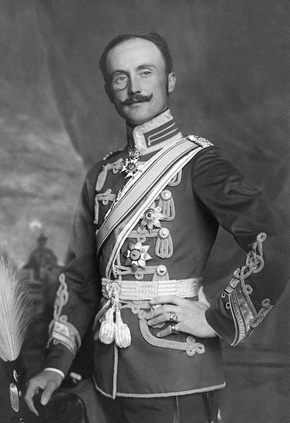 | | |
| --- | --- |
| Full Name | Adolf II Bernhard zu Schaumburg-Lippe |
| | |
| --- | --- |
| Titles | Prince of Schaumburg-Lippe |
Born
23 February 1883

in Stadthagen, Germany
| | |
| --- | --- |
| Allegiance | German Empire |
| | |
| --- | --- |
| Political Party | Unaffiliated (House of Schaumburg-Lippe) |
Adolf II Bernhard zu Schaumburg-Lippe is the current ruler of the small Principality of Schaumburg-Lippe, one of the constituent states of the German Empire, succeeding to his father Georg on 29 April 1911.
History
Early Life
Born to then Hereditary Prince Georg (later Prince Georg zu Schaubmurg-Lippe) and Princess Marie of Saxe-Altenburg, he succeeded to his father on 29 April 1911.
During the Weltkrieg
One of the great achievements of his reign was the development of the city of Bad Eilsen, that counts some of the most beautiful hotels in Germany, despite the works had been interrupted by the Weltkrieg.
Personal Life
He married Elisabeth Franziska Bischoff Korthaus on 10 January 1920.
The Prince has expressed many times the desire to visit Mexico, but the Socialist government refused to grant to a German royal the right to visit their country. As he does not have any children, his heir apparent seems to be his brother, Ernst Wolrad.
See also