Augustinas Voldemaras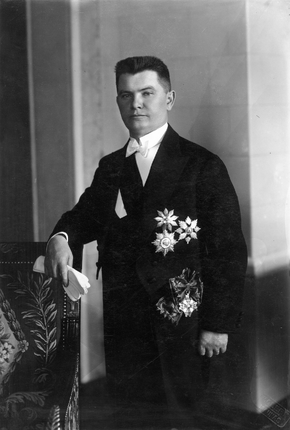 | | |
| --- | --- |
| Full Name | Augustinas Voldemaras |
Born
16 April 1883

in Dysna, Russian Empire (today part of Lithuania)
| | |
| --- | --- |
| Political Party | Party of Lithuanian National Interests |
Augustinas Voldemaras is a lithuanian politican and the current leader of the national populist Party of Lithuanian National Interests.
History
Early life
Voldemaras was born in 1883 in Dysna. He moved to Petrograd in 1890 and graduated from Saint Petersburg State University (now Petrograd State University) in 1910.
During the Weltkrieg
Political career
Voldemaras is currently the undisputed leader of the Party of Lithuanian National Interests (Lietuvių tautinių interesų partija, LTIP), which unites radical nationalist elements of Lithuania. The LTIP is notably anti-German, anti-Slavic and anti-Syndicalist and is growing contender in the upcoming 1938 elections. Voldemaras also leads his own paramilitary, the Iron Wolf Brigades.
See also