The Berlin-Baghdad Railway, also called simply the Baghdad Railway (German: Bagdadbahn), is a major railway connection between Berlin, capital of the German Empire, Baghdad, the hub of Ottoman Mesopotamia, and the Port of Basra on the Persian Gulf. The railroad is the most important piece of infrastructure in the Middle East and is of major importance for its various economic and political benefits.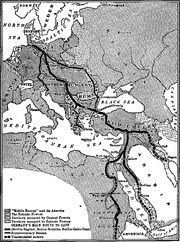 Overview
The Berlin-Baghdad Railway enables the transport of people and freight from Germany through the Balkan States and the Ottoman Empire to the edge of the Persian Gulf. From the Port of Basra, goods can be directly exchanged with even the farthest German colonies and the world beyond. The railroad was initially planned as a means to bypass the then British-controlled Suez Canal.
The first train to complete the entire journey from Berlin to Baghdad left the Anhalter Bahnhof in Berlin on 23 November 1925 and arrived at the Baghdad Westbahnhof on 28 November 1925, in a trip of only five days.
History
Role in the Weltkrieg
By 1915, the railway ended some 80 kilometres (50 miles) east of Diyarbakır, while another spur, heading east from Aleppo, ended at Nusaybin. Additionally some rail was laid starting in Baghdad reaching north to Tikrit and south to Kut. This left a gap of some 480 kilometres (300 miles) between the railway lines. Additionally, there were three mountains which the railway was going to go through, but the tunnels through these three mountains were not complete. So the railway was, in fact, broken into four different sections at the start of the war. The total time to get from Constantinople to Baghdad during the war was 22 days.
In the later stages of the Weltkrieg, the German Empire was able to route the supply for the troops unter Otto Liman von Sanders on the fronts in Mesopotamia and the Levante through the established portions of the Berlin-Baghdad Railway. After construction came to a halt in 1914 with the outbreak of war, work was scheduled to commence again in 1921 with prisoners of war contributing to the construction effort. The entire railroad between Berlin and Baghdad was finally finished in 1925, only after the Weltkrieg had reached its conclusion.
Expansion to Basra
After the completion of the main stretch of the Berlin-Baghdad Railway, the planned continuation to Basra was initially postponed. Work only started in 1928 following long negotiations between the construction company, Philipp Holzmann AG, and the German and Ottoman governments. After the German Empire was given the assurance that any additional investments beyond the earmarked budget would be reimbursed by the Ottoman Empire, construction got underway. The connection to Basra was completed on schedule in 1930 with the budget only slightly exceeding the initial estimate.