Corneliu Zelea Codreanu (born Corneliu Zelinski) is a Romanian politician and Conducător (Leader) of Romania since 1935. He is also known as the Captain (Căpitanul), as leader of the fanatic Iron Guard party. References to him as just Corneliu Codreanu do exist, and Zelea is never used as the family name, all entries for Codreanu cite it as if it were a middle name.
Corneliu Zelea Codreanu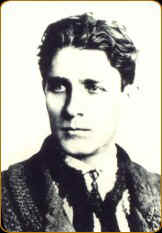 | | |
| --- | --- |
| Born | September 13, 1899 in Huşi, Romania |
| | |
| --- | --- |
| Allegiance | Iron Guard Romania |
| | |
| --- | --- |
| Political Party | Iron Guard |
History
Early life
Corneliu Codreanu was born to Ion Zelea Codreanu and Elizabeth (Brunner) Codreanu. Ion would later become a political figure within his son's movement. A native of Bucovina in Austria-Hungary, Ion had originally been known as Zelinski; his wife was ethnically German. The speculation that Ion Zelea Codreanu was originally a Rusyn is in contrast with the Romanian chauvinism he embraced for the rest of his life.
Too young for conscription in 1916, when Romania entered World War I, Corneliu nonetheless tried his best to enlist. His education at the military school in Bacău (where he was a colleague of Petre Pandrea, the future left-wing activist) ended in the same year as Romania's direct implication in the war. In 1919 he moved to Iaşi.
GCN and strikes in Iaşi
Codreanu studied law in Iaşi. In late 1919, he joined the short-lived Garda Conştiinţei Naţionale (GCN, "The National Awareness Guard"), a group formed by the electrician Constantin Pancu, who attempted to revive loyalism within the proletariat (while offering an alternative to Communism by promising to advocate increased labor rights). As much as other reactionary groups, it won the tacit support of General Alexandru Averescu and his increasingly popular People's Party (of which Cuza became an affiliate); Averescu's ascension to power in 1920 engendered a new period of social troubles in the larger urban areas. The GCN, in which Codreanu thought he could see the nucleus of nationalist trade unions, became active in crushing strike actions.
Rise to power
In 1923 he founded the National-Christian Defense League together with A.C. Cuza, which was renamed in 1925 to the Legion of the Archangel Michael, also known as the Iron Guard or the Legion.
After the death of King Ferdinand in 1927, the military seized power and installed his grandson Michael as their puppet king. Over the years, they collaborated with various right-wing groups, including the Iron Guard. Over time, Codreanu managed to acquire more and more power, and in 1935 he ousted the part of the military government that still opposed him. Codreanu became head of state of the newly renamed Romanian National-Legionary State, as the new Conducător (Leader).
In 1933 Codreanu wrote an autobiography describing his views and how he formed the party that would later on become the only one in Romania. It has been translated in 7 languages, including English.
See also
Ad blocker interference detected!
Wikia is a free-to-use site that makes money from advertising. We have a modified experience for viewers using ad blockers

Wikia is not accessible if you've made further modifications. Remove the custom ad blocker rule(s) and the page will load as expected.