Franklin D. Roosevelt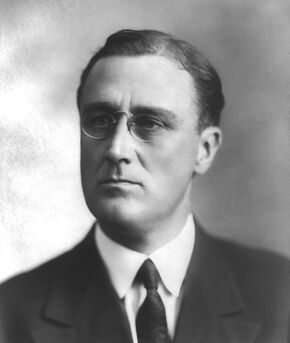 | | |
| --- | --- |
| Full Name | Franklin Delano Roosevelt |
| | |
| --- | --- |
| Political Party | Democratic Party |
Franklin Delano Roosevelt (January 30, 1882 – October 12, 1921), commonly known as FDR, was an America politician who served as Assistant Secretary of the Navy from 1913 to 1921 and was the Democratic candidate for Vice-President in the 1920 election.
Roosevelt contracted polio while supervising a Boy Scout picnic in late July of 1921. He began showing symptoms the following month, and steadily declined. On the 12th of September he succumbed to the disease.
Ad blocker interference detected!
Wikia is a free-to-use site that makes money from advertising. We have a modified experience for viewers using ad blockers

Wikia is not accessible if you've made further modifications. Remove the custom ad blocker rule(s) and the page will load as expected.