Hermann von Göring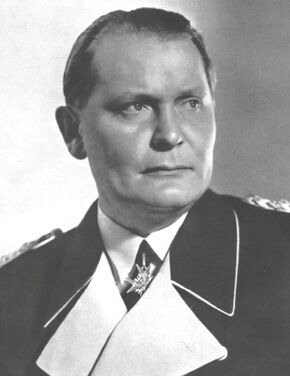 | | |
| --- | --- |
| Full Name | Hermann Wilhelm Göring |
Titles
Statthalter of Mittelafrika

Generalfeldmarschall in the German Luftstreitkräfte
Born
12 January 1893

in Rosenheim, Germany
Political Party
Alldeutsche Verband

(Pan-German League)
Hermann von Göring (born 12 January 1893) is a German Hauptmann of the Luftstreitkräfte and due to his political career after the Weltkrieg, the current Statthalter of Mittelafrika.
History
Early life
Göring was born at the Marienbad Sanatorium in Rosenheim, Bavaria. His father, Heinrich Ernst Göring, a former cavalry officer, had been the first Governor-General of the German protectorate of South-West Africa. Göring was the fourth of five children by Heinrich's second wife, Franziska Tiefenbrunn, a Bavarian peasant. Göring's elder siblings were Karl, Olga, and Paula; his younger brother was Albert. At the time that Göring was born, his father was serving as consul general in Haiti, and his mother had returned home briefly to give birth. She left the six-week-old baby with a friend in Bavaria and did not see the child again for three years, when she and Heinrich returned to Germany.
He was sent to boarding school at age eleven, where the food was poor and discipline was harsh. He sold a violin to pay for his train ticket home, and then took to his bed, feigning illness, until he was told he would not have to return. He enjoyed war games, pretending to lay siege to the castle Veldenstein and studying Teutonic legends and sagas. He became a mountain climber, scaling peaks in Germany, at the Mont Blanc massif, and in Austria. At sixteen he was sent to a military academy at Berlin Lichterfelde, from which he graduated with distinction.
Göring joined the Prince Wilhelm Regiment (112th Infantry) of the Prussian army in 1912. The next year his mother had a falling-out with Epenstein. The family was forced to leave Veldenstein and moved to Munich; Göring's father died shortly afterwards.
The Weltkrieg
Göring served in the Weltkrieg as a fighter pilot of the German Luftstreitkräfte (Imperial German Air Service), and finished the war with more than 20 victories. In 1928, he became the chairman of the Alldeutsche Verband (AV), a party formed by dissatisfied DVLP Reichstag members. He was widely successful, leading AV to an 8% victory in the 1928 election. Following this, he was appointed to be the Statthalter of Mittelafrika.
See also