The Italian Federation (Italian: Federazione Italiana), was a proposed reorganization of Italy after the the treaty of Rome in 1919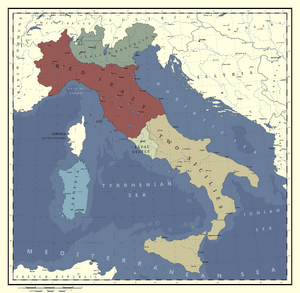 It bordered by Switzerland to the north, Austria to the northeast, the Commune of France to the northwest
History
The unified Italy created in 1861 lasted little more than half a century. Her decision to side with the Entente powers rather than her traditional Central European allies during the Weltkrieg proved to be a mistake to the highest order. In 1919 Italy collapsed under a Central Powers' offensive, and the combination of anger at Italy's betrayal and the Austrian desire for a divided Italian peninsula led to the break-up of Italy as a nation, and the stablishment of old political units such as the Kingdom of the Two Sicilies and the Duchy of Tuscany, which were to be under the rule of the Austrian Kaiser's infant son, which was himslef the Duke of Modena. However, mere hours after the announcement of this nation-ending 'peace', the Republic of Italy was proclaimed in Milan by incensed nationalists. All treaties signed by the House of Savoy where to be considered null and void. The competing Socialist Republic of Italy, modeled after France's syndicalist revolution, was proclaimed less than a week later in Torino. The Italian Federation never left the drawing board, and three of its member states still exist:
Ad blocker interference detected!
Wikia is a free-to-use site that makes money from advertising. We have a modified experience for viewers using ad blockers

Wikia is not accessible if you've made further modifications. Remove the custom ad blocker rule(s) and the page will load as expected.