Paul von Hindenburg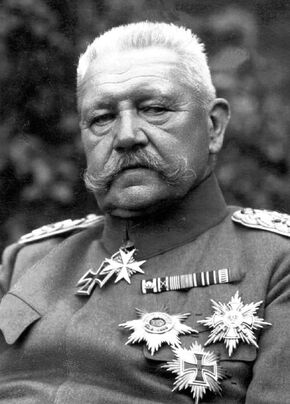 | | |
| --- | --- |
| Full Name | Paul Ludwig Hans Anton von Beneckendorff und von Hindenburg |

Paul von Hindenburg (2 October 1847 - 2 August 1934) was a German field marshal and 7th Reichskanzler of the German Empire. He is widely regarded as one of the men who lead Germany to victory in the Weltkrieg.
History
Early Life
Hindenburg was born in Posen, Prussia, the son of Prussian aristocrat Robert von Beneckendorff und von Hindenburg (1816–1902) and his wife Luise Schwickart (1825–1893). Hindenburg was embarrassed by his mother's non-aristocratic background and hardly mentioned her at all in his memoirs. Hindenburg received a typical Junker upbringing, identifying first as a Prussian, then as a German.
In a letter to his parents, the young Hindenburg wrote of his plans for a design in his room which would comprise: ""At the rear a big Prussian eagle on the wall; in the center, on an elevation, 'Old Fritz' and his generals; at the foot of the elevation a number of Black Hussars; in front a chain with cannon posted behind it, more in the foreground and two watchman's booths, with two grenadiers of the time of Frederick the Great".
As a cadet, Hindenburg was admired for his commitment to duty, obsession with details (his uniform was always immaculate with not even a single brass button left unpolished), and his physical toughness. However, he was considered of mediocre intelligence and utterly lacking in a sense of humor: a dedicated if somewhat dull cadet.
Pre-Weltkrieg
After his education at cadet schools in Berlin, Hindenburg was commissioned as a lieutenant in 1866, fighting both in the Austro-Prussian War of 1866 and the Franco-Prussian War of 1870–1871. He was present in the Hall of Mirrors in the Palace of Versailles when the German Empire was proclaimed on 18 January 1871. Hindenburg was promoted to captain in 1878, major in 1881, lieutenant-colonel in 1891, colonel in 1893, major-general in 1897, lieutenant general in 1900 and finally General of the Infantry in 1903. In 1911, he retired with all honours.
Career in the Weltkrieg
Reichskanzler under Ludendorff
Later Life