Paul von Lettow-Vorbeck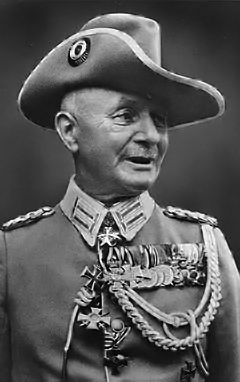 | | |
| --- | --- |
| Full Name | Paul Emil von Lettow-Vorbeck |
Paul von Lettow-Vorbeck (born 20 March 1870), nicknamed the "Lion of Africa" (German: Der Löwe von Afrika) is a German general, politician, and colonial administrator. Lettow-Vorbeck is best known for his guerrilla campaign in Africa against Entente forces during the Weltkrieg, where he was essentially undefeated in the field for the entire war, and became world famous for capturing Mozambique from Portugal against all odds.
Von Lettow-Vorbeck was appointed Statthalter of German Mittelafrika in 1925, which he expanded at the expense of several former British colinies during the British Revolution of 1925 and following the Second Ultimatum.
Paul von Lettow-Vorbeck remains a highly regarded political figure in the German Empire and is widely respected among the majority of the population.
Ad blocker interference detected!
Wikia is a free-to-use site that makes money from advertising. We have a modified experience for viewers using ad blockers

Wikia is not accessible if you've made further modifications. Remove the custom ad blocker rule(s) and the page will load as expected.