One or more subjects within this article are under rework.
Peru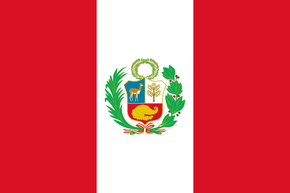 Flag of Peru
Full Name
República del Perú

(Republic of Peru)
Motto
Firme y feliz por la unión

(Firm and Happy for the Union)
Anthem
Himno Nacional del Perú

(Peruvian National Anthem)
| | |
| --- | --- |
| Official Languages | Spanish |
| | |
| --- | --- |
| Government Structure | Presidential Republic |
| | |
| --- | --- |
| Head of State | Oscar Benavides Larrea |
| | |
| --- | --- |
| Head of Government | Oscar Benavides Larrea |
| | |
| --- | --- |
| Area (excluding colonies) | 1,285,216 km² |
| | |
| --- | --- |
| Population (excluding colonies) | Around 6.2 million |
Peru is a South American nation bordering Bolivia, Brazil, Chile, Colombia, and Ecuador.
History
20th Century
After the War of the Pacific the Peruvian government began to implement a number of social and economic reforms to further the nation's recovery and by the 1900s had stabilized under the Civilista Party. A stability which would last till the Authoritarian rule of Augusto B. Leguia whose downfall was the Great Depression. The Great Depression lead to the rise of the APRA (American Popular Revolution Alliance) which for the next three decades would be the focal of an internal conflict between the Peruvian Military, Social Elite, and the APRA. In 1929 Chile returned the Tacna region, which had been capture during the Pacific War, to Peru. From 1932 to 33 Peru was at war with Columbia over the territorial disputes of the Amazonas and it's capital of Leticia.
Politics
Foreign Relations
By 1936 it's been 15 years since the treaty with Chile returned Tacna to Peru and 3 years since the war with Columbia came to a close.
To summarize Peru has,
Poor relations with Chile
Poor relations with Colombia
Ad blocker interference detected!
Wikia is a free-to-use site that makes money from advertising. We have a modified experience for viewers using ad blockers

Wikia is not accessible if you've made further modifications. Remove the custom ad blocker rule(s) and the page will load as expected.